Carson Arthur: Vegetables, Checken & Bees
Mar 19, 2019, 15:03 PM
Carson Arthur's extensive 15-year television career and his recognition as an international landscape designer has made him a go-to expert when it comes to your backyard. Making his career through outdoor development, Arthur is adamant about taking the time to invest in your property, especially outside. He'll be a featured guest speaker at the 2019 Home + Garden Show at the Edmonton Expo Centre March 21-24. Before releasing his new book, Vegetables, Chicken, and Bees: An honest guide to growing food this spring, we chatted with him about the changing needs behind growing our own food.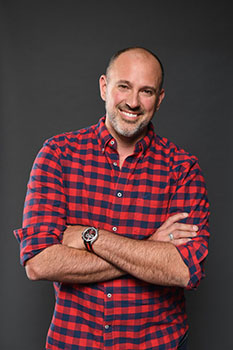 "I've wanted to write this book for several years, but it wasn't until I bought a head of iceberg lettuce for $4.99 that I really committed to sharing my experiences," says Carson. He continues, "Food prices will continue to rise indefinitely. Our changing climate will challenge growers and farmers on a global scale. As a result, we, as homeowners, need to start looking at our own spaces and learning how to best make use of what is around us."
What can seem like a very big challenge to some, Carson is adamant that anyone can grow their own food. "I have tried all of the different approaches; from local experts to on the internet, and several passed down through my family. Some of them work, others are better skipped, but for a new gardener...how do you know what is going to work best for you? I really tried to hone in on this and give my advice for the new (and expert!) home gardener."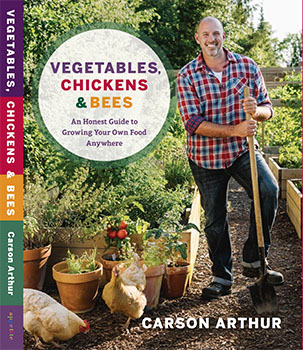 The backyard is often considered an oasis during the warmer months. For Carson, it's important to find balance between a garden and your dream backyard escape. "That is the key to creating a space outdoors that allows you to grow food, but also lets you escape at the end of a stressful week is finding the perfect balance between the two. Sometimes it's as simple as a perfect bench under an apple tree, or even a stroll through a bee-friendly meadow. When we create harmony between our own demands and what nature needs from us, life just seems so much more complete."

Carson's love for food from the yard has definitely now become a lifestyle. Growing most of his food from his garden at home, it's been the best experience so far. "Every single meal from my garden has been so rewarding. This morning, I had fresh eggs from my chicken paired with a spicy salsa from my tomatoes and peppers." Is your mouth drooling yet?
Carson will be on the Home + Garden Stage at the Home + Garden Show March 21-24, 2019 at the Edmonton Expo Centre. You can catch him chatting about his new book, and get even more green tips and tricks from the expert gardener himself on Thursday March 21 at 7pm and Friday March 22 at 4pm! Don't have your tickets yet? Buy online and save $2.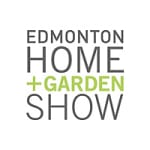 MARCH 21-24, 2019
EDMONTON EXPO CENTRE