BIG CROWDS. BIG SUCCESS.
Tens of thousands of homeowners converged at the Edmonton EXPO Centre, for four days of the Edmonton Home + Garden Show, making it a must-attend event. With ideas in mind and money to spend, visitors eagerly walked the show to gain inspiration and meet with more than 424 exhibitors and experts to discuss their projects.

For four days only, sell face-to-face to thousands of qualified buyers. Make money and find new customers. Will you see this many qualified buyers during the same time frame if you're not here? Partner with the leading producer of home and garden show events in North America. Join the more than 15,000 exhibitors that count on our 41 home shows to boost their annual sales. We know what works; put our experience to work for you!

Please join us at the Edmonton EXPO Centre March 19-22, 2020!


CLICK HERE for the 2019 Post-Show Report.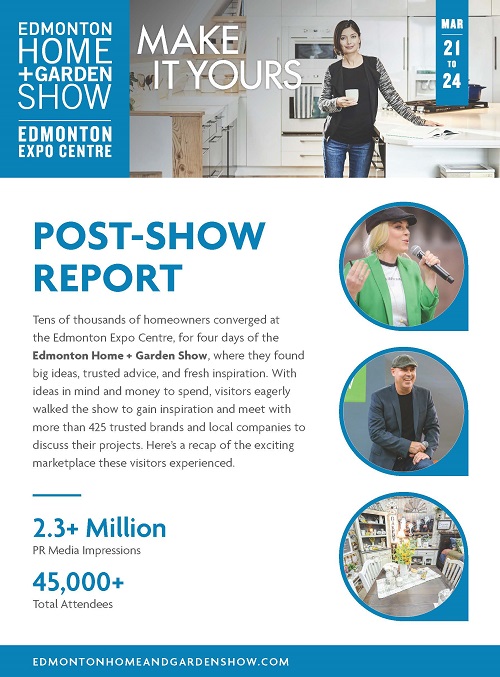 Contact us today!
Kirk MacDonald, Exhibit Sales Consultant (Companies A - E)
KirkM@mpeshows.com 1.866.941.0673 ext. 202

Bryan Andrews, Exhibit Sales Consultant (Companies F-P, #'s)
BryanA@mpeshows.com 1.800.633.8332 ext. 229

Alex Black, Exhibit Sales Consultant (Companies Q - Z)
AlexB@mpeshows.com 866.941.0673 ext. 213

Kristy Cairns, Show Manager
KristyC@mpeshows.com 1.800.633.8332 ext. 231